Strengthen your lungs, reduce shortness of breath and promote safer swallow
improve your respiratory fitness
"I'm a big fan of The Breather and have seen the improvements to many, many lives. I use it with most patients in my practice, and personally back it."
Michelle Underhill, MA, CCC-SLP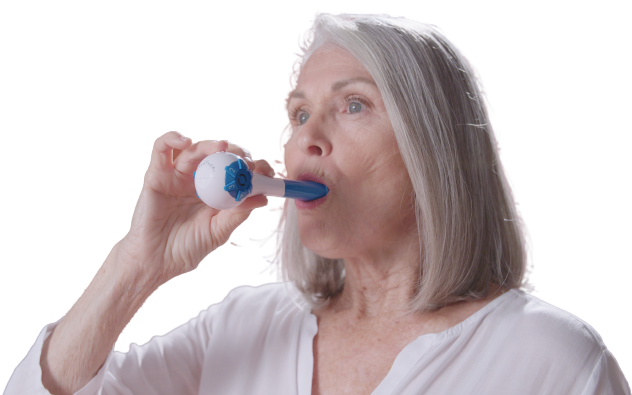 breathe easier in just one week A home gym for your lungs
Practice Respiratory Muscle Training (RMT) at home to strengthen your lungs and improve your respiratory fitness. Say goodbye to shallow breathing
Get more oxygen that your body needs to function and improve mental clarity.
Reduce the need for treatments
Ease symptoms related to respiratory and/or cardiac weakness. Top Rated Customer Service
Get access to live and on-demand RMT education, free in-app coaching, plus demos and downloads produced by an experienced clinical and research team.
How it works in 3 easy steps
THE BREATHER allows you to adjust the inhale and exhale resistance levels independently so you can train your lungs in a way that is specific to your needs. All you need is 10 minutes a day training from home.
Breathe in and out through your Breather.
Adjust the inhale/exhale dials to your level, increasing resistance when you can.
Complete 2 sets of 10 breaths twice a day, 6 days a week.